---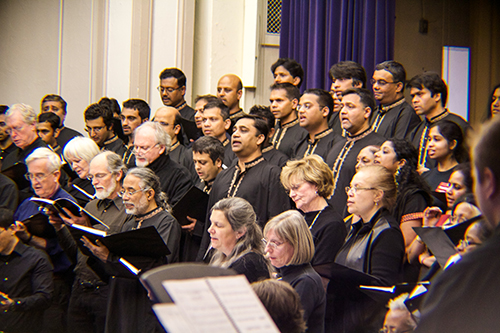 Shanti in Sanskrit means peace. Shanti is a spectacular multi-media musical production that integrates western choral and orchestral music with Indian musical and dance elements. Shanti explores the meaning of peace and inter-connectedness through a music score that brings ancient chants for peace to life in a  contemporary settings.
Shanti – A Journey of Peace has wowed audiences for over 10 years, in the Eastern, Midwestern and Southern Regions of the US. With over 250 musicians from the Bay Area Indian Community, the Santa Clara Chorale and a string orchestra along with  dancers on stage, from the Bay Area, Shanti is a ground breaking creation in the history of world music, and represents the ultimate meeting of Western and Eastern cultures.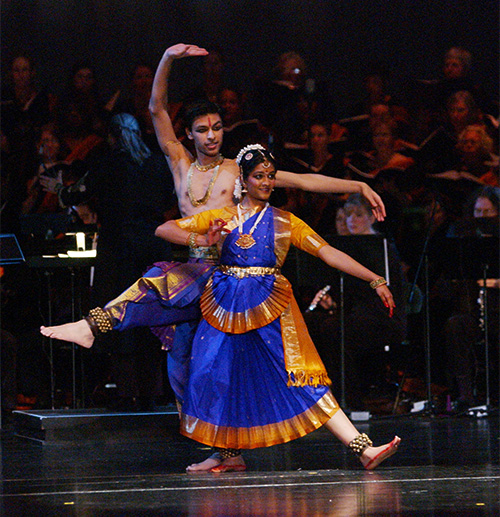 This acclaimed multi-media musical performance – premiered to a capacity audience on May 1, 2004 at the University of Cincinnati's Great Hall and launched the Indo-American choral movement in the US. It is being brought to you to the West coast for the first time by Dharma Civilization Foundation, at the Flint Center, Cupertino.
Shanti is perfect for families, connoisseurs, music lovers of both Western and Indian genres, and those new to the fusion experience.
Shanti is an expansive and collaborative performance that explores the meanings and message of peace, joy, and the interconnectedness of all humanity through dance, music, and images of India, set to a Western Orchestral symphony. Shanti will be performed with a musical score that cuts across cultures, integrating choral and orchestral harmony with the ancient Raga traditions of India; a multi-genre Indian classical and folk dances; Western ballet movements and spectacular imagery.
Shanti is the ultimate confluence of peoples, cultures and religions; It celebrates the diversity that characterizes our global era through the language of music and dance. Shanti embodies the possibilities for concord amongst the world's civilizations rather than their clash.
Shanti is being performed for the first time in the Bay Area, to an anticipated audience of about 6200 people across 3 performances.
Watch a 90-Second Video on the Shanti Performance