---
The Santa Clara Chorale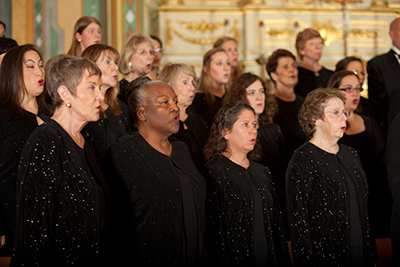 The Santa Clara Chorale is a 90 voice auditioned choir dedicated to enhancing the skills of choral singers and extending the knowledge and appreciation of choral singing and its tradition to new singers and audiences. The Chorale brings together knowledgeable, amateur singers from a range of ages and backgrounds to study, rehearse, and perform major choral works. We strive for performances marked by excellence in singing, with engaging and innovative concert programming. The Chorale performs a four concert season and regularly presents guest artists and collaborates with other choirs and orchestras.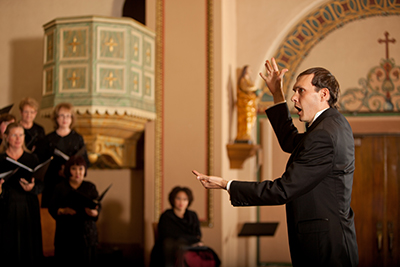 Since 1962, the Santa Clara Chorale has brought the joy and beauty of choral music to singers and audiences locally and abroad. With a repertoire that encompasses the masterworks of composers such as Beethoven and Mozart, the challenging contemporary music of Eric Whitacre and Libby Larsen, and the diverse traditions of jazz, spirituals, gospel, Broadway, popular, and world music, the Chorale creates compelling performances that illustrate the broad spectrum of choral literature.
The Chorale regularly collaborates with local school and community ensembles in performance and outreach. In addition to annual performances with the Santa Clara University Concert Choir, recent collaborators include the Oxford Street Brass, the Jubilate Orchestra, the San Jose Chamber Orchestra, Symphony Silicon Valley, the Miller Middle School choir, the Heavenly Voices choir, and Voices in Harmony. Notable past collaborators include the jazz greats David Brubeck and Vince Guaraldi, spiritual legend Jester Hairston, and a performance with the Boston Pops Esplanade Orchestra.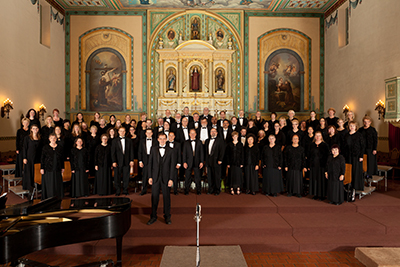 Beyond quarterly performances in the beautiful and historic Mission Santa Clara and other regular South Bay performance venues, the Chorale also shares its love of choral music internationally. The Chorale has performed under the baton of Sir David Willcocks at Coventry Cathedral in England, and has presented concerts in some of the world's great performance venues in Israel, Poland, Russia, Austria, Italy, the Czech Republic, and Argentina. In June of 2016, the Chorale will continue its work as a musical ambassador on a musical tour to Spain.
Under the artistic leadership of its fifth artistic director, Scot Hanna-Weir, the Chorale continues to provide its audiences and singers with meaningful musical experiences. Through performing challenging and interesting repertoire, presenting exciting and innovative concerts, and connecting to the larger arts community, the Santa Clara Chorale continues to inspire by breathing life into choral music and creating art together.